We had a blast splashing into our theme 'Aquatic Adventures' this week! We learned a ton about wetlands and water creatures! All of the campers were especially enthusiastic about metamorphose as many critters spend a portion of their lives underwater, for example pesky mosquitos and majestic dragonflies! Some aquatic insects grow by shedding their outer protective skeleton to grow a larger one, a few campers found the old shells while searching for aquatic bugs.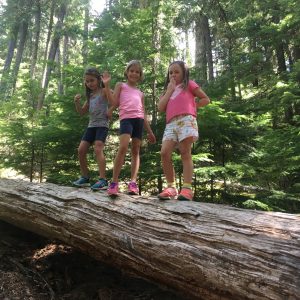 We used nets, homemade viewfinders and basic kitchen supplies as tools to collect and examine our aquatic catches of the week. To examine the aquatic insects better, campers would separate the insects individually in an ice cube tray. They then used a flow chart to identify the species based on traits such as length, number of tails and number of legs. Some of the species we found include: Mayfly larva, stonefly larva, tadpoles, midges and even a leech! On muddy walks in the swamps we balanced on logs while observing aquatic plants. There were many aquatic plants that grew from the soil up through the water like cat tails and skunk cabbage who both love having wet roots.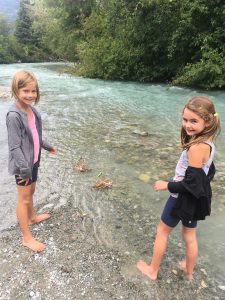 We 'shore' did get crafty this week! Our highlight was building our own boats out of sticks and other supplies found on our nature walk, we had buckets of fun playing with our boats afterwards. We also made pine cone aquatic critters,  imaginary friends out of rocks and created wetland habitats/aquariums out of salad containers! As always, we played oodles of fun games! In the forest we played follow the leader, Simon says, charades, telephone and meet the tree! All in all this week was a splashing success and a boat load of fun.
Next week at Whistler Nature Camp we're sneaking into the theme 'Stealth & Camouflage'
Come join the fun as we learn about the importance of Stealth & Camouflage for predator and prey!
Camp can be booked by the week or for individual days up until 3pm the day prior.
For more info or to register visit our camp page!