Zero Waste Education Workshops
Since 2017, AWARE has delivered FREE Zero Waste Education Workshops in classrooms throughout the region on behalf of the Squamish-Lillooet Regional District (SLRD). The Zero Waste Education Workshops are designed to be interactive, fun and engaging, with students learning practical waste reduction and sorting skills that can be easily integrated into everyday routines.
In the last 5 years we have delivered workshops to 276 school groups, engaging over 5000 students in zero waste action in the communities of Squamish, Whistler, Pemberton, D'Arcy, Mount Currie and Lillooet.
We have wrapped another year of Zero Waste Workshops. In the 2022/2023 school year we engaged over 1,250 students. During these workshops students learn what zero waste is, what belongs where in our recycling, and ways to reduce waste in everyday lives. The workshop also touches on important topics including plastic pollution, composting and Extended Producer Responsibility. Thank you to all those who took part!

The 2022/2023 year introduced a new two-part workshop + zero waste challenge series, which was a huge success. Students and teachers worked together to create as little waste as possible over 5 days. The challenge encouraged many classes to set up new systems and signage to improve waste diversion within their classrooms.
"We loved the two-part zero waste workshop. My class was very motivated by the challenge and it prompted rich, meaningful conversations about waste and caring for our planet."

Grade 4 Teacher, Garibaldi Highlands Elementary
---
2023-2024 Workshops
JOIN THE WAITLIST
Due to growth in demand for workshops we initially offer sessions for Grade 4, 7, and 10 classes. Depending on uptake and availability, sessions may be opened up to other Grades.
Workshops are available on a first-come first-served basis – so, sign up to the waitlist to be the first to hear when we are accepting registrations for the 2023-2024 season.
---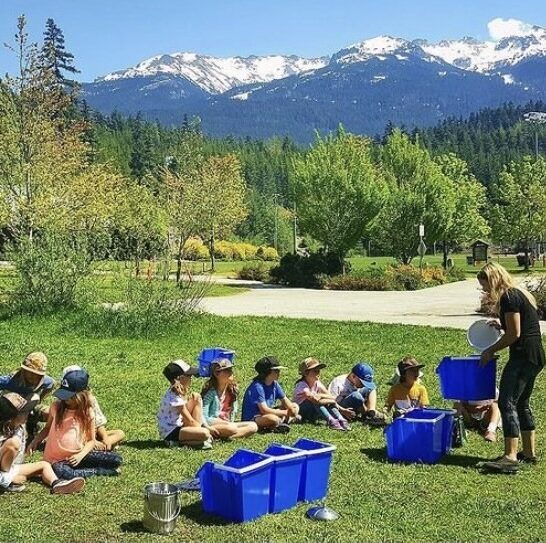 "I learned a lot and plan to use my knowledge into the future."

– Sophie, Grade 7, Signal Hill Elementary, Pemberton
"This workshop helps the environment!"

–

Tiiya7an, Grade 5, Xet'olacw Community School, Mount Currie
"She explained what the problem was and easy ways to solve it."

– Carolyn, Grade 6, Spring Creek Community School, Whistler
What teachers like:
'The real life examples and personalized resources. The kids saw places they recognized and materials they were familiar with and I really helped them to connect ideas and stay engaged.'
'I think actually seeing (in video) the landfill and recycling site reinforces the idea that the garbage doesn't just disappear when they put it in the bin. Students seemed kind of surprised to see the garbage appear again.'
'Knowing this educational effort was being offered helped to engage our class and model how we can work together to clean up our act!'
---
The Zero Waste Education Workshops are intended to:
Increase knowledge and awareness of waste issues, on the global scale and in students' home communities.
Build an understanding of key actions we can each take to reduce waste and keep things out of the landfill.
Empower students to become zero waste champions in their homes, schools and communities.
The workshops are designed to be interactive, fun and engaging. Students will learn practical waste skills that can be easily integrated into everyday routines. Our approach to target Grades 4, 7 and 10 will help the program progress long term and remain impactful year to year.
Questions? Get in touch.
Please email: slrdzerowaste@gmail.com
---