Zero Waste Education Workshops
Since 2017, AWARE has delivered FREE Zero Waste Education Workshops in classrooms throughout the region on behalf of the Squamish-Lillooet Regional District (SLRD). The Zero Waste Education Workshops are designed to be interactive, fun and engaging, with students learning practical waste reduction and sorting skills that can be easily integrated into everyday routines.
In the last 5 years we have delivered workshops to 276 school groups, engaging over 5000 students in zero waste action in the communities of Squamish, Whistler, Pemberton, Mount Currie and Lillooet. We were welcomed back into the classrooms during the 2021/22 school year, reaching 1153 students across a total of 20 schools, 9 of which were new to the program. 
---
2022-23 Workshops
REGISTRATION OPEN
Due to growth in demand for workshops we are initially offering sessions for Grade 4, 7, and 10 classes. Depending on uptake and availability, sessions may be opened up to other Grades.
Workshops are available on a first-come first-served basis – so register your grade 4 / 7 / 10 classes early. For other grades, sign up to the waitlist to be the first to hear if and when more workshops are added.
This year, the program will be offered in-person with two different formats available for teachers to pick from. The online format is still available by special request only.
Pick Your Preferred Workshop Format
Format 1: Classroom Presentation + Interactive Activities
A one-time 45-60 minute interactive presentation with a follow-up activity provided to help students digest the key messages.
Format 2: *NEW* Two-Part Workshop + Zero Waste Challenge*
A new format for the 2022-23 school year. This is a two-part workshop consisting of two shorter length sessions (30 mins) with a teacher-led challenge for the class to complete between the two workshops. Teachers and students will pick from a variety of action-based challenges and results will be followed up on in the second session.
*Not available in the Lillooet area at this time.
Registration
To register, click the community your school is located in and select your preferred format.
If booking the 2-part workshop, the Zero Waste Educator will book the second workshop with you directly. We aim to deliver the second workshop approximately 2 weeks after the first.
Online Presentations + Interactive Workbook
Online workshops simply require a classroom smartboard or projector and ability to run zoom. To keep virtual sessions engaging there is a workbook for students to complete during the workshop.
To book a virtual workshop, contact the Zero Waste Educator: slrdzerowaste@gmail.com
Join The Waitlist
Teachers who are interested in a workshop for grades outside of 4, 7 and 10, please sign up to our waitlist below.
---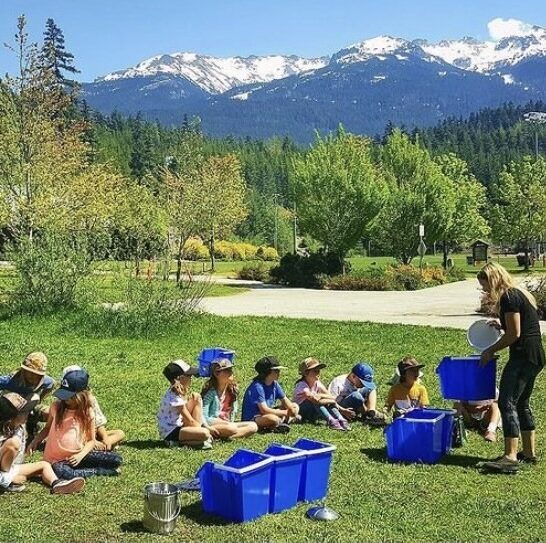 "I learned a lot and plan to use my knowledge into the future."

– Sophie, Grade 7, Signal Hill Elementary, Pemberton
"This workshop helps the environment!"

–

Tiiya7an, Grade 5, Xet'olacw Community School, Mount Currie
"She explained what the problem was and easy ways to solve it."

– Carolyn, Grade 6, Spring Creek Community School, Whistler
What teachers like:
'The real life examples and personalized resources. The kids saw places they recognized and materials they were familiar with and I really helped them to connect ideas and stay engaged.'
'I think actually seeing (in video) the landfill and recycling site reinforces the idea that the garbage doesn't just disappear when they put it in the bin. Students seemed kind of surprised to see the garbage appear again.'
'Knowing this educational effort was being offered helped to engage our class and model how we can work together to clean up our act!'
---
The Zero Waste Education Workshops are intended to:
Increase knowledge and awareness of waste issues, on the global scale and in students' home communities.
Build an understanding of key actions we can each take to reduce waste and keep things out of the landfill.
Empower students to become zero waste champions in their homes, schools and communities.
The workshops are designed to be interactive, fun and engaging. Students will learn practical waste skills that can be easily integrated into everyday routines. Our approach to target Grades 4, 7 and 10 will help the program progress long term and remain impactful year to year.
Questions? Not seeing the option you need? Get in touch.
Please email: slrdzerowaste@gmail.com
---