Zero Waste Education Workshops
NOW BOOKING FOR 2023/2024
Since 2017, AWARE has delivered FREE Zero Waste Education Workshops in classrooms throughout the region on behalf of the Squamish-Lillooet Regional District (SLRD). The workshops are designed to be interactive, fun and engaging, with students learning practical waste reduction and sorting skills that can be easily integrated into everyday routines. The presenters cover important topics including plastic pollution, composting and Extended Producer Responsibility. Often the most exciting and engaging part is the zero waste challenge, where students and teachers work together to create as little waste as possible over the course of several days, and often many classes setup new systems and signage to improve waste diversion within their classroom.
The Zero Waste Education Workshops aim to:
Increase knowledge and awareness of waste issues, on the global scale and in students' home communities.
Build an understanding of key actions we can each take to reduce waste and keep things out of the landfill.
Empower students to become zero waste champions in their homes, schools and communities.
"We loved the two-part workshop. My class was very motivated by the challenge and it prompted rich, meaningful conversations about waste and caring for our planet"

– Grade 4 Teacher, Garibaldi Highlands Elementary
As of September 2023, we have delivered workshops to 279 school groups, engaging over 6,000 students in zero waste action in the communities of Squamish, Whistler, Pemberton, D'Arcy, Mount Currie and Lillooet.
---
Workshop Registration
Bookings are offered to Grade 4, 7, and 10 classes. We believe this targeted approach will help the program progress long term and remain impactful year to year. Depending on intake and availability, sessions may be opened to other grades, with dates released in January. Workshops are available on a first-come first-served basis so please register early. For all other grades, sign up for the waitlist to be the first to hear if and when more workshops are added.
Formats
OPTION 1: One Full-length Workshop + Interactive Activities. A one-time 45-60 minute interactive presentation with a follow-up activity provided to help students digest the key messages.
OPTION 2: Two Shorter Workshops + Zero Waste Student Challenge. A two-part workshop consisting of two shorter length sessions (30-40 mins) with a teacher-led challenge for the class to complete in between the two workshops. The Zero Waste Educator will provide instructions and materials to complete the challenge with results follow up in the second session. (Format 2 is not available in the Lillooet area at this time.)
A virtual, online format is available by special request. To book a virtual workshop, contact the Zero Waste Educator: slrdzerowaste@gmail.com
How To Register
To register, click the community your school is located in, select a date and time, and then your preferred format.
If booking the two-part workshop, the Zero Waste Educator will book the second workshop with you directly. We aim to deliver the second workshop approximately two weeks after the first.
Squamish   Whistler   Pemberton / Mt Currie   Lillooet Area
Teachers whose classes are not Grade 4, 7, or 10, but are interested in a workshop please sign up to be added to our waitlist.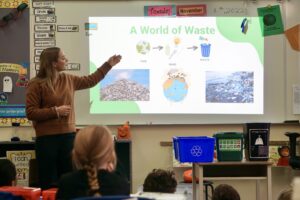 ---
This Is Why We Do What We Do
When we asked students what they will do to reduce their waste, they responded with the following pledges:
"Say 'no' to things I don't need."

– Garibaldi Highlands Elementary Student, Grade 2/3 Classroom
"Eat less things with plastic packaging."

– Ecole de Pemberton Student, Grade 4/5/6 Classroom
"Use reusable bags, straws and containers."

– Ecole de Pemberton Student, Grade 4/5/6 Classroom
"Make sure everyone in my house recycles properly."

– Spring Creek Elementary, Grade 7 Classroom
It's a success story with the teachers too:
"I really enjoyed the graphics, photos and the questions throughout for students to answer. Students who have trouble concentrating said that they never lost attention because they were so interested."

– Garibaldi Highlands Elementary Teacher
"I love having this presentation as it gives our class lots to talk about after the presentation and how we can reduce waste in our class."

– Ecole de Pemberton Teacher
"My students were so engaged and had so many questions about which items are and are not recyclable or compostable. They were motivated to bring change to their families and educate their parents."

– Spring Creek Elementary Teacher
Questions? Get in touch.
Please email: slrdzerowaste@gmail.com
---