For over four years, AWARE has delivered FREE Zero Waste Education Workshops in classrooms on behalf of the Squamish-Lillooet Regional District (SLRD) throughout the region. And they're back for the 2022/2023 school year!
The workshops are conscientiously designed to be interactive, fun and engaging. Students learn practical waste reduction and sorting skills that they can use at home and take with them into their everyday lives.
With every student that participates in the Zero Waste Workshops we are able to:
Increase knowledge and awareness of waste issues, on the global scale and in students' home communities.
Build an understanding of key actions we can each take to reduce waste and keep things out of the landfill.
Empower students to become zero waste champions in their homes, schools and communities.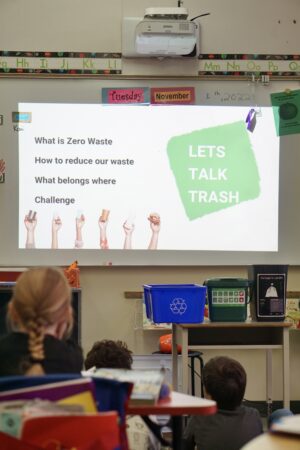 We have had the pleasure of working with so many wonderful teachers within the Sea to Sky and here's what a couple of them had to say about the impact that the workshops had on their students:
"The real life examples and personalized resources were great. The kids saw places they recognized and materials they were familiar with and it really helped them to connect ideas and stay engaged.
"I think actually seeing [in video] the landfill and recycling site reinforces the idea that the garbage doesn't just disappear when they put it in the bin. Students seemed kind of surprised to see the garbage appear again."
The students also enjoy the workshops, and go home with some great takeaways:
"I learned styrofoam is really bad for the world, and that plastic can stay on earth for centuries" – Zoe, Grade 4, Garibaldi Highlands Elementary
Spaces for 2022 are nearly gone but you can sign up for the session waitlist and get notified when we release new dates for sessions in January – April.