This weeks theme at camp was Things with Wings! From birds to bats to bugs, there are many Whistler creatures with wings! Migratory birds help remind us how interconnected our world truly is. Birds can travel incredible distances – anywhere from 25 to 1000 km in a day! They migrate out of necessity otherwise their food supply would rapidly deplete and nesting competition would become too high.  A fun fact campers loved about birds is that the feather shafts are made out of keratin the same material our nails are made of!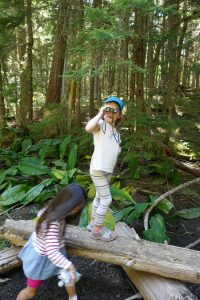 Campers used binoculars on our forest walks to examine birds and bird habitats more closely. We examined rectangular holes carved into trees by Pileated Woodpeckers while hunting. It's incredible to observe the architectural work done by birds without the use of any power tools or even opposable thumbs!
Campers even got to examine bird skull replicas. We focused in on the beaks, as each beak is very specialized it can give us clues to determine what the bird may eat or how it might construct a home. Many campers were successful at guessing which bird the skull was from. Hikes were filled with many "caws" and "chk-a-dee-dee-dee" from both campers and birds! Birds use calls and sounds to attract other mates, letting you know where it is. Learning bird calls can be super fun and a great way to identify which birds are around the area without seeing them.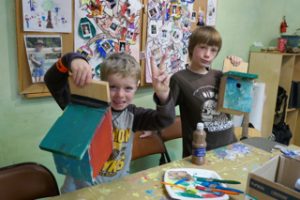 During Friday's arts and crafts we had the chance to make our very own cedar birdhouses! Campers worked hard constructing and painting their own birdhouses all sorts of fun colours in order to attract some lucky little birdies.  This week there were many paper plate nests created. Campers pretended to be birds as they scavenged around the forest for suitable  materials to make their nest. We  experienced how incredibly difficult it must be for a little bird to collect, carry, mould, and weave various types of materials while trying to do it ourselves.
Next week at Whistler Nature Camp we're exploring the theme Friendly Forests!
Join the fun as we discover the wonders of nature!
Camp be booked by the week or for individual days up to 3pm prior.
For more info or to register visit our camp page!