This years bike rodeo taught a range of youngsters the importance of riding their bikes and how to be safe while doing it. Kids started the journey with a bike inspection which included a helmet, brake and tire check. Next the  careful use and application of breaks was explored followed by some slalom and figure eight drills. Kids were also taught the importance of dismounting their bikes while crossing the road and how to look all ways at a four way stop.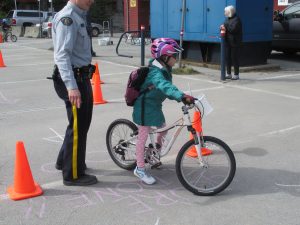 Following the bike portion of the morning the kids participated in a cumulative effects drill where they looked at the importance of trail use and the severe environmental effects that off trail riding can have on the surrounding environment.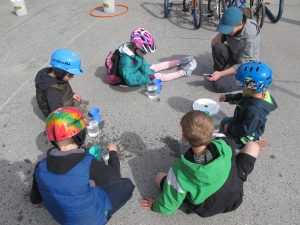 A special thank you to Corporal Chris Dodds and the Whistler RCMP officers for the space and expertise that were provided to make this event happen. The AWARE Kid's Nature Club would not be possible without the support of the Whistler Public Library, Regional Recycling and the volunteers who run the club.
The AWARE Kid's Nature Club has been educating local and visiting youth about all things environmental since 2007. The Nature Club is held on the last Sunday of each month, from 10am – 11:30am at the Whistler Public Library.