Join AWARE as we welcome Elizabeth May to Whistler on January 21st for a Report on the COP21 Paris UN Climate Change Conference and explore how the global commitments made might translate into to community scale action.
Bring your friends and neighbours to
hear about the groundbreaking Climate Change agreement made at COP21;
understand how these global commitments are expected to filter down to Canada, British Columbia and communities for implementation; and
explore solutions and actions that we can take here in the Sea-to-Sky, as communities and as individuals.
We are still working on some of the event details but wanted to get the date out and tickets available early as we expect this will be an in demand event! We hope this will be an evening of inspiration and exploration as we uncover how this landmark global climate commitment will lead to community solutions and action, for the benefit of people and planet!
This event is brought to you by the Association of Whistler Area Residents for the Environment (AWARE) and has been made possible thanks to event sponsors: Tourism Whistler, Freeman AV, Pique Newsmagazine. If you are interested in sponsoring this event please email us at cruddy@awarewhistler.org.
---
Event Details:
Date: Thursday 21st January
Time: Doors open 6pm, Presentations start at 7pm.
Location: Whistler Conference Centre, 4010 Whistler Way, Whistler, Canada, V0N 1B4
Tickets available at: https://www.eventbrite.ca/e/report-from-cop21-paris-with-elizabeth-may-tickets-20090146168?aff=ebrowse
$10 AWARE Members
$15 Future Members
$25 Event Ticket AND an AWARE Membership (includes 1 Adult 2016 AWARE Membership worth $20)
If you are uncertain of whether your annual membership is up to date please email info at aware whistler.org
Full event format and timeline to be confirmed in early January but we wanted to get the date and tickets out early as we expect this event to be in demand.
---
About Elizabeth May: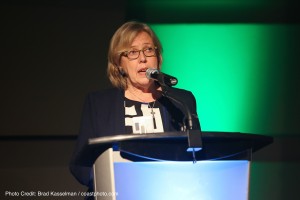 Elizabeth May has a long record as a committed advocate for social justice, for the environment, for human rights, and for economic pragmatic solutions. She is an environmentalist, writer, activist and lawyer who has been active in the environmental movement since 1970.
In the 1980s May worked as a Senior Policy Advisor to then Federal Environment Minister Tom McMillan, under Prime Minister Brian Mulroney. May held the position of Associate General Counsel for the Public Interest Advocacy Centre, representing consumer, poverty and environment groups from 1985–86. In 1986, she became Senior Policy Advisor to then federal Environment Minister, Tom McMillan of the Progressive Conservatives.  She was involved in negotiating the Montreal Protocol to protect the ozone layer, new legislation and pollution control measures and was instrumental in the creation of several national parks.
In 1989, May became the founding Executive Director of the Sierra Club of Canada. During her tenure May received several awards in recognition of her environmental leadership, including: the International Conservation Award from the Friends of Nature, the United Nations Global 500 Award in 1990, the award for Outstanding Leadership in Environmental Education by the Ontario Society for Environmental Education in 1996, and in November 2005 was made an Officer of the Order of Canada in recognition of her "decades of leadership in the Canadian environmental movement."
May resigned as the Sierra Club's executive director in April 2006 in order to seek the Green Party of Canada Leadership and in the 2011 Election, May made history by being the first Green Party candidate to be elected to the House of Commons where she represents the riding of Saanich-Gulf Islands in southern Vancouver Island. In October 2015, Prime Minister designate Justin Trudeau invited May to be part of the Canadian delegation to the United Nations summit on climate change to be held in Paris.
Respected across party lines, Elizabeth was chosen by her fellow MPs as: Parliamentarian of the Year 2012, Hardest Working MP 2013, and Best Orator 2014. Hill Times recognized her as the Hardest Working MP, Best Constituency MP, and Best Public Speaker in both 2013 and 2014. Elizabeth became an Officer of the Order of Canada in 2005, was recognized by the United Nations in 2006 as one of the world's leading female environmentalists, and in 2010 was named by Newsweek Magazine as "one of the world's most influential women."
Other achievements include receiving the Canadian Version of the Queen Elizabeth II Diamond Jubilee Medal (2012), helping to found the Canadian Environmental Defense Fund, holding three honorary doctorates and being the author of eight books.