At the May 16th Council meeting Mayor and Council voted to adopt the Zero Carbon Step Code in a move that will ensure the greenhouse gas emissions of new buildings are accounted for. By implementing low carbon building requirements in Whistler we have the potential to avoid approximately 5,200 tonnes of carbon dioxide equivalent which is 8% of the emissions reduction needed to reach Whistler's 2030 target.
The move utilizes new regulatory powers from the Province to support municipalities to go beyond the existing BC Energy Step Code framework by honing in on building emissions over building efficiency. This is a important because different fuels have different 'greenhouse gas intensity' ratings. The below image from last nights presentation illustrates this beautifully.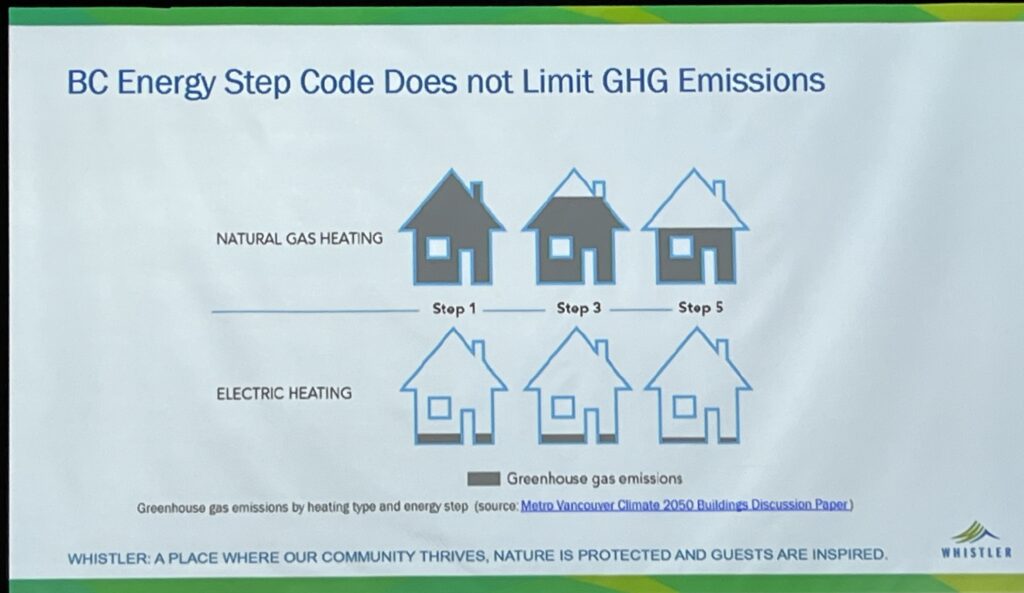 The grey inside the houses represents the greenhouse gas emissions produced by fossil (natural) gas heating v's electricity to heat the home. As the energy step code level increases (from lowest on left) we can see the fuel needed to heat the homes reduces but fossil gas heated home have an exponentially greater carbon footprint.
As part of the presentation to Council staff provided an overview of consultation and feedback from the construction sector the potential challenges and opportunities relating to the bylaw updates being proposed. While some challenges relating to up front costs and availability of skills were raised the changing Provincial regulations would mean those have to be tackled in the coming years. For Whistlerites, moving to lower carbon buildings makes sense both environmentally and economically, as fossil fuel costs will inevitably increase (as subsidies decrease and carbon pricing increases) and so adopting the Zero Carbon Step Code makes changes that will benefit residents for the 50+ year lifespan of a building.
How This Fits In To Whistler's 'Big Moves' Picture
Whistler's 2020 Climate Action Big Moves Strategy outlined a target of reducing GHG emissions by 50 per cent below 2007 levels by 2030. In 2020, buildings accounted for 50% of community GHG emissions and 42% in 2021. The Big Moves Strategy identifies the six 'big moves' we can make to reduce emissions and for buildings these are…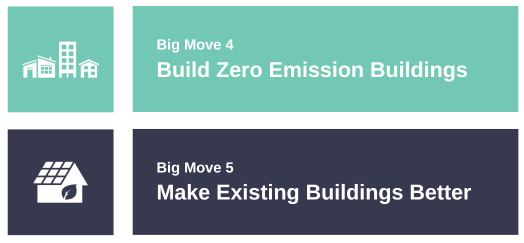 The Zero Carbon Step Code impacts new buildings which is easier than retrofitting. That said, there are lots of ways we can retrofit our buildings to make them less GHG intensive. Check out the Retrofit Assist Program for more on this.
GHG reduction sources modelling completed as part of the Big Moves Strategy development allows us to see in chart format how the adoption of the Zero Carbon Step Code secures GHG reductions possible when we build better buildings (circled in red).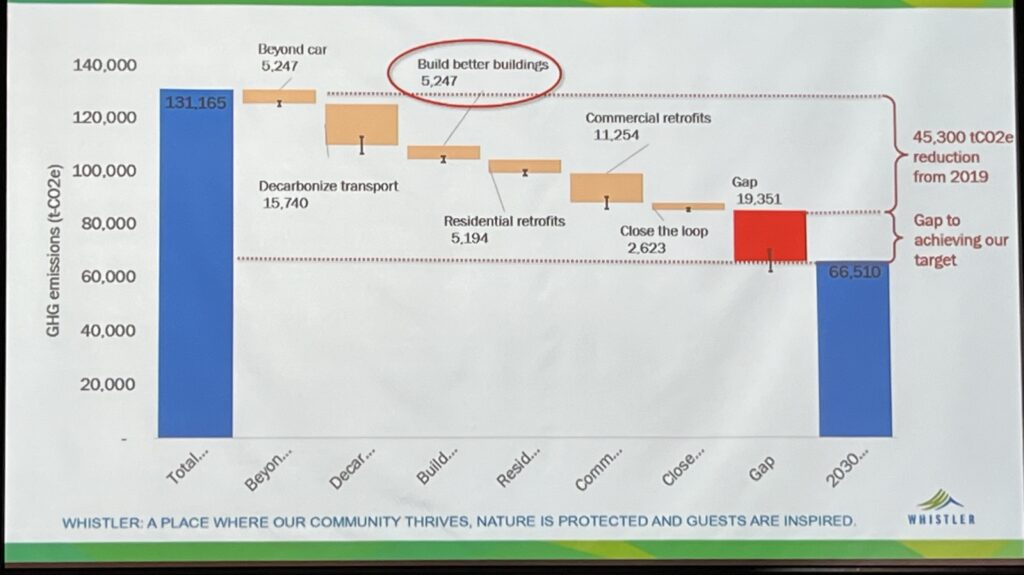 It's not often one vote can make such a big difference to our shared climate goals!
Our thanks to RMOW Council and Staff for moving this through and to those who came out to show support for the shift to the Zero Carbon Step Code.
Find the Full Report to Council here: https://pub-rmow.escribemeetings.com/Meeting.aspx?Id=a3b48969-5813-4e3a-b619-51f4212ff84a&Agenda=Agenda&lang=English&Item=33&Tab=attachments