Whistler Spring Go By Bike Week is finally here! We're so excited to see you riding for fun or commuting on human power instead of fossil fuels. Any type of 'ride' counts, and going out for any reason counts too!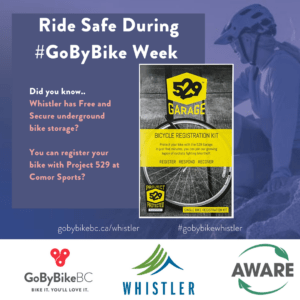 ---
We have some awesome prizes donated by some of our local establishments!
The more rides you log, the more prizes you are eligible for!
Every participant automatically gets is registered for
One-time 10% off at the Green Moustache during #gobybike week when you show up on your bike 

 14 day free FATMAP Explore upgrade
If you log 1-3 rides, you will be entered in a draw to win:
POW Bundle
1 month membership to Meadow Park
Cool as a Moose Bundle 
Coast Mountain Brewing Voucher
If you log 4-6 rides, you will ALSO be entered to win:
Coastal Culture Bundle 
Lululemon Bundle 
1 year FATMAP Explore Membership
If you log 7+ rides, you will ALSO be entered to win:
1 year WORCA Membership 
Arbutus Routes Standard Service Package
Then, we also have our GRAND PRIZE for the rider who logs the most Kilometers:
 Nita Lake Lodge Signature Spa Package
AND every rider gets put into the provincial draws for prizes too.
---
Bingo and Photo Contest
You can also win prizes by playing Bike Bingo and participating in our daily photo contest.
Daily Photo Contest
Every day of #gobybike week, AWARE will select from photos submitted to #gobybikeWhistler instagram feed for a daily prize draw, with prizes donated from POW, Coast Mountain Brewery, and Whistler Blackcomb Epic Promise Foundation.
You have three options to play Bingo:
 Print out your very own Bingo Card from this post!

 Cut out a Bingo Card from this week's edition of Pique Newsmagazine

 Take a screenshot of the Bingo Card and fill it out directly on your phone
Post your completed card on Instagram with the hashtag #gobybikewhistler or send a photo of it to creid@awarewhistler.org. Every complete BINGO (5 completed squares in a row – vertical, horizontal, or diagonal), gets you one extra entry for Bingo prizes!
REMINDER: To be eligible for prizes, you must be registered at https://gobybikebc.ca/whistler and you must log at least 1 ride between May 30 and June 5!