Whistler Nature Kids @ Home
Now is a great time to awaken your senses and spark curiosity – right in your own natural backyard!
Check out the activities below and head outside for some creative outdoor exploration as a family following these five fun themes. We'll be updating this page with new activities all year long so keep checking back for new fun opportunities in the outdoors.
Looking for more? Check out our Activity Books for a full day's worth of nature fun!
Our thanks to the Whistler Community Foundation for supporting us as we adapt programs as a result of Covid-19.
---
Want to stay in the loop? Sign up to be notified when new activities or kid's programs 
are available!
---

Look, Listen, Discuss
A fun tool for a walking field trip around the neighbourhood. Let's slow down and take in the biodiversity of our own natural backyard.
Scavenger Hunt
It's amazing what we can find when we stop and take a closer look.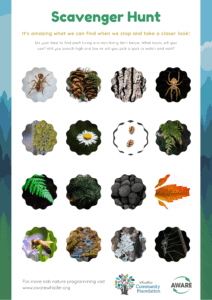 Riddle in the Middle
Let's step it up! Solve the riddles on the second page to figure out what you need to find or draw.  The magnifying glass means it is something you must find in nature and the pencil means you can draw the answer in the blank space.
Spring Bingo
Perfect for a spring-inspired walk outdoors! See if you can complete a row each time you go for a spring wander. Increase difficulty by trying to complete the entire card.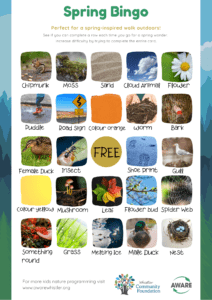 Sense-sation
Different animals rely on different senses to survive in the wild. Try the activities below to gain a better understanding of some of these unique adaptations.


Tree-united
How many Whistler trees can you I.D? Pick a trail and discover how many different tree species you can find. Use these helpful hints to I.D trees using info on the needles, bark and cones. Answer the questions below to record different discoveries!
Foliage Fashions
Let your creativity run free! Time to get crafty, it's amazing what materials mother nature has on hand. Follow the guidelines below or come up with your own unique creations.

Find Your Tree
This particular activity is designed to play in groups of two. Adjustments can be made based on the number of participants (use groups of three if necessary). Head outside to a spot that has a variety of species and different sized trees. Be mindful of tripping hazards, as players will be temporarily blindfolded.
Scavenger Hunt (with a twist)
A great exercise while walking to or from a nearby park, wetland, lake or garden! This activity will increase the powers of observation while walking.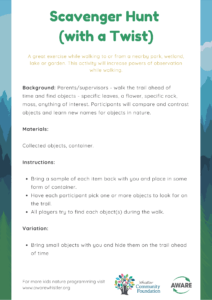 Berry Bonanza
How many Whistler berries can you I.D? Pick a trail and discover how many different berry species you can find. Use these helpful hints to match these local species to their berries, leaves and flowers.
Fascinating Forests
Time to experiment. On a hot day, it' s always cooler under a tree. Not only do leafy branches shade you from the sun, plants cool the air around them through transpiration. Let's see for ourselves!

Shelter Skelter
This activity will give participants a new perspective on what it takes for different animals to survive in the wild. Relate this activity to natural habitats or shelter for wildlife.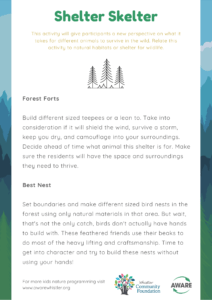 Float Your Boat
Have a splash on a warm day with this activity. A great opportunity to combine a craft with some outdoor fun!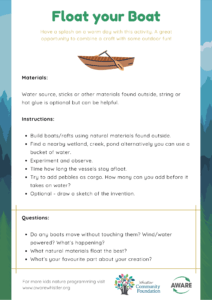 Nature Walk
There are so many different elements to nature, sometimes all we need to do is slow down and take a look.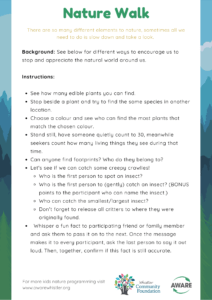 Underwater Viewfinders
Have you ever wondered what it would be like to have clear vision underwater? Well now is your chance!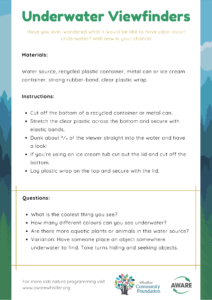 Circle Search
When we look for something it's natural to want to keep moving. When was the last time you stopped to let nature come to you?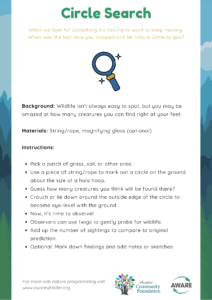 Now you see me, now you don't
It's no easy task being a predator and the risk is ever greater if you are the prey. Imagine you had to play hide and seek for every meal.

Predator vs Prey
Eat your prey and avoid being eaten by others!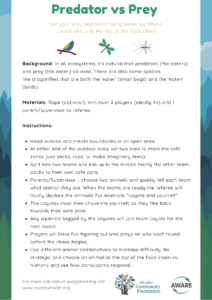 Evolution
Use games of rock, paper, scissors and evolve up the food chain.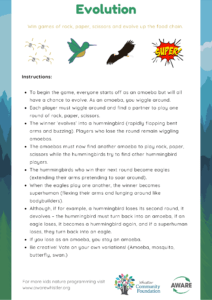 Circle of Life
Our ecosystems are very complex and even a small disruption can drastically alter our environment.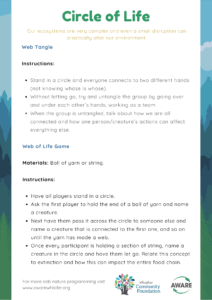 Sound Mates
Many animals rely on unique sounds to communicate with their pack, flock, sleuth, or herd.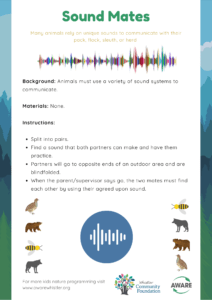 Pigs Fly
Did you know – just because an animal has wings doesn't mean it can fly…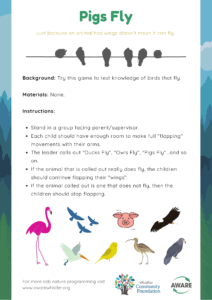 Whistler Bird Calls
It's easy to step outside and listen to the calls of the wild, but who exactly are you listening to?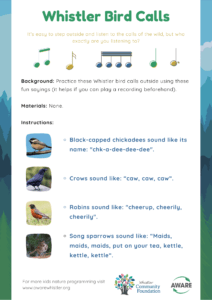 Insect Zoo
Let's put on our scientist hats and conduct an outdoor experiment!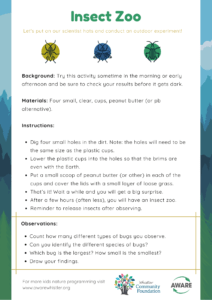 Make a Bug Catcher
What better way to learn about creepy crawlies than with our own two eyes! But first, we need to catch them.
Bug World
Sometimes we need to stop and smell the roses, or better yet stop and search for bugs!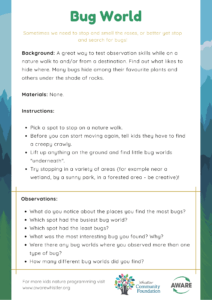 ---
Enjoying these activities? Sign up to be notified when new activities or kid's programs are available!
---
Love What We Do? Consider adding your Support to Conservation and Climate Action in Whistler: