The candidate pre-survey results are in.
Plus, get key info for the 2018 Whistler General Local Government Election.
The Association of Whistler Area Residents for the Environment (AWARE), Arts Whistler and Whistler Community Services Society (WCSS) have partnered to host an All Candidates meeting on September 26 at Maury Young Arts Centre at 6:00 p.m. (doors at 5:30 p.m.).
View All Candidates Meeting Event Page
Three ways to prepare:
Read the candidate pre-survey results below. In preparation of a 'Building Sustainable Community' All Candidates Meeting on Sept 26, a survey was issued to candidates. It's a great way to get acquainted with the issues and topics of interest from the hosts of the meeting.
If you need complimentary childcare at the event, register online by September 24. The link can be found on the event page.
Mark your calendars with the key dates below which include other All Candidates Meetings and voting dates.
About The Candidate Survey:
The purpose of this survey is to maximize the opportunities for all candidates to share their opinions on a range of issues that impact the future sustainability of our community. As questions in an All Candidates Meeting can only be directed at a few candidates at a time, this is an opportunity to share candidate's views.
Format
A total of 24 questions were asked, split into five areas:
Opening Questions // Q1-8 // Topics include: Candidate priorities, growth, visitation, reconciliation, achieving a shared vision, tracking community performance, and the Official Community Plan.
Courtesy of Arts Whistler // Q9-14 // Topics include: RMI funding, the Temporary Use Permit fee, fostering the local culture and heritage sector, general funding.
Courtesy of AWARE // Q15-17 // Topics include: Climate Change, backcountry recreation planning, old growth forest, habitat protection, wildfires.
Courtesy of WCSS // Q18-22 // Topics include: Housing crisis, Whistler's homeless population, Sexual Assault Forensic Examinations, rent increases, affordability.
Closing Questions // Q23-24 // Topics include: Your "most memorable legacy', any additional comments.
Read The Survey Results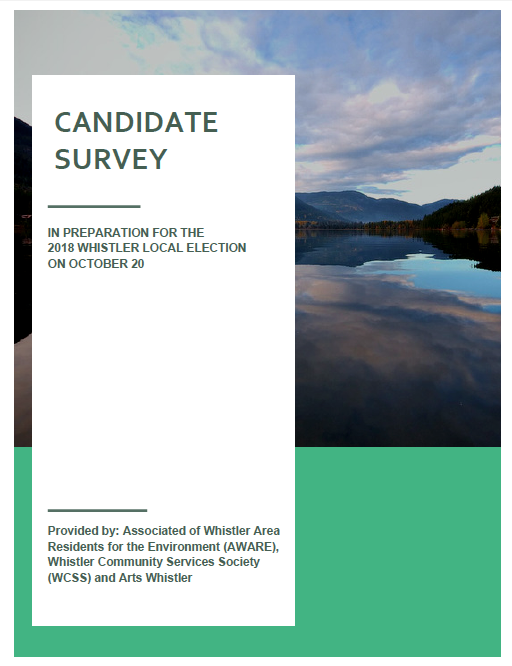 Candidate-Survey-Results-2018_Final_lowres
---
Key Election Info:
Important Dates –
September 26: All Candidates Meeting hosted by the AWARE, Arts Whistler and WCSS focused on 'Building Sustainable Community'. More info
October 3: All Candidates Meeting hosted by the Whistler Chamber of Commerce and Pique Newsmagazine with a focus on issues around economic success, growth and affordability. More info
October 9: A speed-dating style All Candidates Meeting hosted by WORCA (Whistler Off Road Cycling Association) and Pique Newsmagazine  More info
October 10 and 13: Advance voting
October 20: General Voting Day
October 24: Declaration of official results
For candidate nomination papers and complete and up-to-date election information, please visit the Resort Municipality of Whistler website.
---
The Candidates –
Candidate Mayor (acclaimed)
Candidates for Councillor (6 positions available)
Andrews, Steven
Annand, Gordon
Bright, Lance
Buzzard, David
De Jong, Arthur
Falcon, Larry
Ford, Jen
Forsyth, Ralph
Grills, John
Hawkins, Nathan
Jackson, Duane
Jamernik, Tova
Jewett, Cathy
Kolvek, Miroslav
Lloyd, Janice
Murl, Jeff
Pettle, Ira
Reid, Brian
Tardif, Melanie
Titus, Dawn